Autonomous Self-Checkout Powered by Catapult
Armagh offers self-checkout kiosks, in a variety of configurations to support traditional front-end store installations or within specific departments. Autonomous self-service software is an optional component of the all-inclusive Catapult retail automation system that drives traditional checkout lanes, e-commerce / click-and-collect, and mobile POS.
Flex Market
Flex Market is a premium kiosk designed for ePay transactions. This dependable self-checkout kiosk serves micro markets and retailers with minimal operator maintenance.
The Catapult Flex Market Self-Checkout system is the next generation Micro Market kiosk. Following in the footsteps of previous self-checkout kiosk designs, the Flex Market kiosk has been designed to be wall mounted, table top placed or for stand alone deployment giving the operator the most flexibility in any Micro Market installation. The Flex Market comes completely configurable to meet any budget based on the specific needs of any Micro Market vendor. The new eye catching Flex Market rewrites the definition of self service micro market retail. This sleek attractive kiosk has all of the standard features and components that have made Catapult such a success in the Micro Market venue.
Express Market
While it is one of the most affordable self-checkout kiosks on the market, The Express Market™ Kiosk is extremely capable and ready to handle the most complex and demanding transaction volumes.
The Express Market Self-Checkout Kiosk is not about compromising. While it is one of the most affordable e-vending self checkout kiosk on the market, it's also the most powerful. The low cost yet high power of Express Market allows vending operators and grocery retailers to install it anywhere, no matter the volume or size of the employer.
This kiosk was designed around the idea that micro market and grocery store operators don't need to forfeit performance and functionality to have an affordable checkout solution in their markets. While other kiosk companies resort to tablet-based technology running a mobile platform, Express Market delivers an all-in-one PC with all the processing power needed and runs the very latest Windows 10 operating system. The business class platform has been time-tested and proven with advanced update and security measures which will keep your investment operating longer and more secure than tablet-based kiosks. With a larger screen, more memory and faster processing power, this innovative kiosk will exceed consumers expectations and provide the merchant with a more versatile solution, from the smallest of break-rooms to the largest grocery operations.
Autonomous Guidance: A Better Software Philosophy Means a Better Consumer Experience
Our self-checkout design starts with software that is focused on a user-friendly experience, from start to finish. We are leading the industry down a new path for self-service by designing our solution to be more autonomous, and less likely to ever need store personnel interaction.
The goal is simple: design and build solutions that act as one with the consumer, allowing them to quickly interact, scan, resolve discrepancies, and tender transactions with little-to-no attendant interaction.
Self-guided, friendly, and engaging user interface
It all starts with a smile, disarming even the most apprehensive customer. Visual and voice guidance is provided to gently guide the consumer to the next step in the transaction.
AmbDex™ item scanning
Consumers tend to naturally want to scan and bag two items at a time. The Patented AmbDex feature allows for this, which results in fewer false bag weight security faults and a more comfortable scan-to-bag flow.
Speed Tendering™
The Patented Speed Tendering function allows experienced consumers to skip unnecessary steps and tender the transaction by simply swiping their credit card or prepaid account card.
Secure OneTouch™
Customers can associate themselves to a transaction, receive e-coupons, loyalty points, and even pay for all merchandise, simply by touching a biometric fingerprint reader one time. It's the easiest, fastest, and most secure payment technology on the market.
Device Aware Customer Association
Our line of self-service kiosks allows consumers to associate themselves using a variety of identification technologies, such as barcode scanners, magnetic stripe readers, biometric readers, and RFID readers. Because of the array of available customer identification methods, all varieties of Catapult kiosks now provide visual guidance for consumers to help them understand the different options.
Software that Thinks and is Capable of Overcoming Daily Obstacles
You can expect your Catapult self-service and self-checkout systems to automatically navigate the various daily issues that normally cripple competing systems (and of course their consumers/operators.)
For example, when Catapult senses that a bill or coin dispenser is jammed or out of currency, it will automatically print out a barcoded receipt, which enables the consumer to quickly and effortlessly retrieve their exact owed change from another self-checkout unit, or from an attended POS station.
The consumer simply scans the barcoded receipt at an adjacent self-checkout unit and the change is quickly dispensed and reconciled within the store reporting system. Additionally, the software will automatically disengage the failing equipment and display a notice on the customer display proactively notifying future customers that cash handling is temporarily unavailable, while communicating that e-payments are still available.
Additional intuitive software intelligence includes: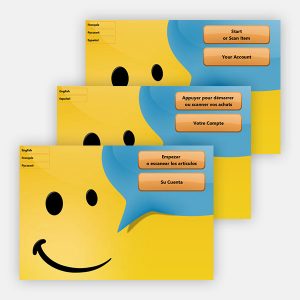 Walk Away detection
This patented feature senses when the customer may have walked away from the system. A countdown appears on the customer interface before the transaction is automatically voided and recorded within the reporting system.
Self-learning weight security
With Catapult, retailers can choose to run with, or without, item weight security. If you choose to leverage weight security with your self-checkout offering, Catapult will automatically learn the weight of every item in your store. These captured weights are automatically replicated to every store location within the enterprise ensuring that all self-checkout system databases are always updated and in sync.
Self-tuning weight security
Catapult automatically runs statistical analysis on all captured weight ranges, accounting for small discrepancies that may occur, and automatically eliminating those captured weights that are likely to be false readings. This level of automated business logic provides more accurate weight security which translates to fewer weight exceptions at the checkout.
Assistance Needed email alerts
Store personnel can receive automatic email alerts when a shopper needs assistance or when the self-checkout terminal requires maintenance. This allows staff to carry a mobile device and receive notifications rather than having to stand behind a stationary attendant workstation.
Self-Checkout, Is this Solution a Fit for Your Retail Business?
Over the years, self-checkout technology has improved and consumers have become more comfortable using it. Consumers can now be provided with convenient, simple, and fast checkout transactions with minimal attendee interaction required. Thousands of self-service Catapult kiosks have been deployed to unattended employee break rooms throughout North America with great success.
Modern self-service automation, consumer acceptance, and rising labor costs present the perfect opportunity to consider implementation of self-service for the first time, in addition to replacing and/or upgrading aging units.
Self-checkout can elevate your grocery business by:
Offering consumers another option in their transaction experience
Reducing lines and increasing throughput
Re-deploying cashiers from stationary check lanes to the sales floor in order to elevate direct customer service and up-selling
Reducing labor costs
Catapult has set a new standard in transactional store software systems, effectively making the POS and self-checkout a single unified solution with two distinct user experiences. By combining the Catapult transactional solution stack, with Catapult's adaptable Market series cabinetry, retailers have more capability than ever to mix-and-match store requirements for a variety of store location demands and local consumer preferences.