To make critical decisions that affect the bottom line in your favor, your business needs actionable intelligence.
Retailers who rely on Catapult eliminate fear, uncertainty, and doubt. Instead, they find confidence in the decision-making process. The reporting and analytical tools found in Catapult will optimize your decision-making process so you can be certain about the roads your enterprise chooses to travel on the journey to success.
Gain enterprise insight with Web Office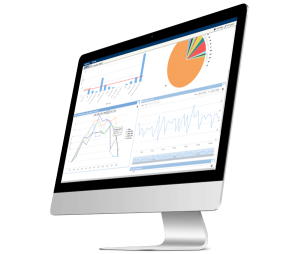 See everything: With Catapult Web Office you gain 360-degree insight into enterprise information.
300+ reports
Reports are established from best practices and user requests. Each report can be filtered by a multitude of data dimensions.
Security control
You decide who has access to what information.
Keep your data
Store data is valuable commodity. Data acquired through Catapult is yours to keep. What's yours remains 100% yours.
360-degree, item-level deep dive
From one intuitive screen, see all activity on any specific item including; receiving, adjustments, credit memos, transfers, physical counts and grading.
Visualized Executive Business Intelligence
Catapult features a built-in visualization intelligence tool, Dash™. Using graphical "widgets" Dash allows executives to see their most important data in graphic form.

Powerful, live dashboards
Build powerful business live dashboards by executive user with automated minute-by-minute refresh.
Comparative Drill Down Capability
Zoom in to get a detailed view of performance data
Real-Time Intelligence
Each visual graph can be updated live based on user refresh settings.
Customizable dashboard
Each user can configure their dashboard based on their preferred layout and most used data widgets.
Intuitive Widgets
Some examples of Dash "Widgets" include Net sales by store, item movement (cost vs. sales), hourly historical day-of-week comparison, supplier fulfillment rate, supplier purchases, anti-theft, sales by adjustment comparison, store sales, top customers, cashier negative quantity, inventory adjustment quantity, inventory adjustment cost.
Empowered Executive Decision Making with Briefcase™
Briefcase™ – OLAP Cube is a high speed decision support system that can quickly provide insight into the whos, whats, whens, wheres, and whys behind product sales, profit margins, customer habits, store performance, supplier performance, and employee efficiency.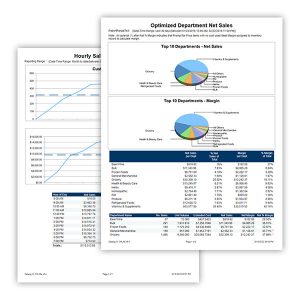 Decision support
Online Analytical Processing Cube (OLAP) is designed to empower retail executives to view and compare key information within their retail enterprise including: daily sales, hourly statistics, customer activity, items on-hand snap shots, and promotions. Executives can quickly find answers to thousands of questions.
Dynamically connected to excel
With Briefcase, your ability to quickly gather data and populate your most demanding excel spreadsheets will be turbo-charged.
Data ready when and where you need it
Transactional data automatically synchronizes with Briefcase OLAP Cube. Once the data is synchronized the user is free to disconnect and go mobile. This lets you work when and where you want.
Free up your IT personnel
Summarized data marts are organized along business lines, users can retrieve the reports they need without involving IT. This provides management with quicker access to information.
Need for Speed
Not only can Briefcase deliver the data in the form you need it, but best of all it delivers with blazing speed. Get to your answers faster using the power of a dynamic OLAP cube.